Game: StarCraft 2
Starts: Wed, Sep 1st 2021, 19:00 EEST
Ends: Thu, Sep 2nd 2021, 23:00 EEST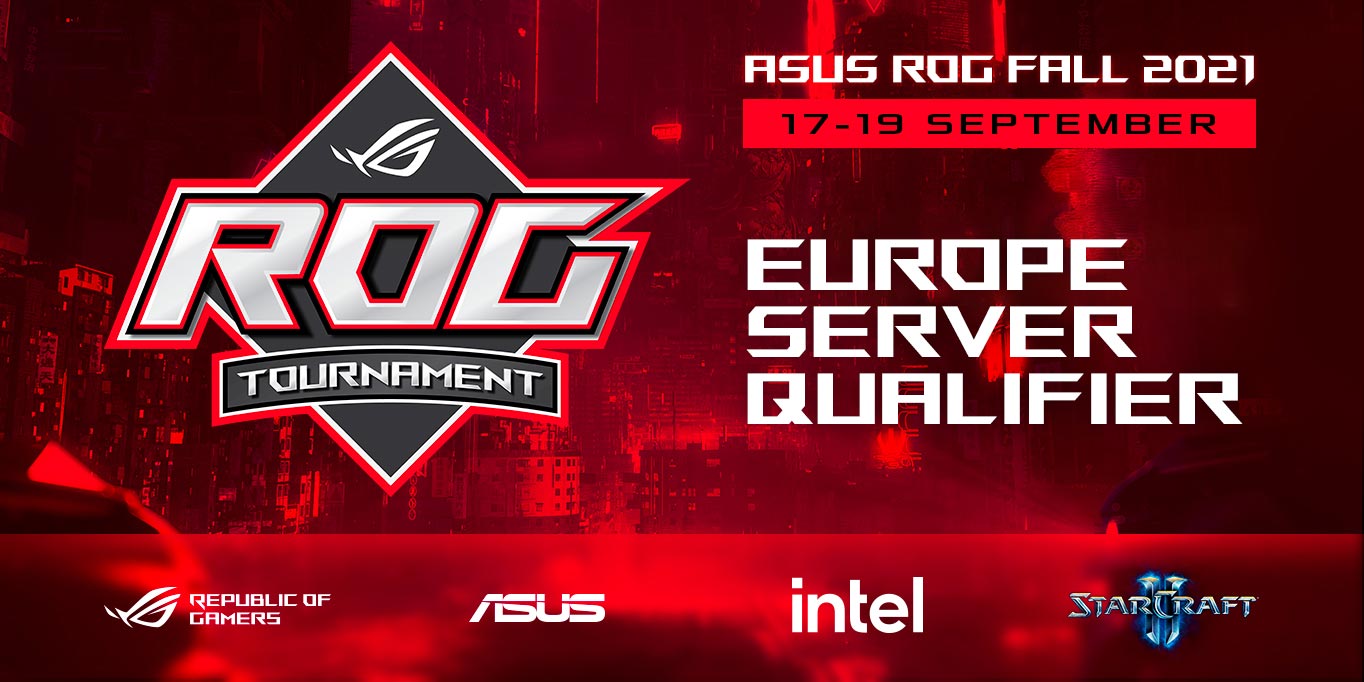 This is the Europe Server qualifier for the ASUS ROG Fall 2021 StarCraft II tournament held online on September 17-19, 2021. This qualifier is based on the European Battle.net server. The top three players will earn a spot in the main tournament. Note that this qualifier is played in two parts on consecutive days September 1-2.
Notice
In order to participate, you need to add your battletag (e.g. Player#123) from Dashboard --> Add game.
Failure to do so might result in removal before brackets are generated.
Update to format: The lower bracket will start from UB Ro32 onwards if there are less than 64 checked-in players. The total number of consecutive rounds in the tournament is kept under 10 rounds.
Info
Server: EU
Dates: September 1-2, 2021
Maps: Ladder Season 3, veto before match
Format: Single elimination into double elimination on Ro32, all matches bo3
Sign-up end time: September 1, 17:00 CEST (18.00 EEST)
Check-in start time: 17:00 CEST (18:00 EEST) - button appears on the right
Start time: 18:00 CEST (19:00 EEST)
Battle.net chat channel: ASUSROG (also ASUSROG2 if needed)
Requirement: Master or Grandmaster on any server
Rules: here
Discord chat: https://discord.gg/7Yc7VmGjyv

How to participate
Add your game account
Click the signup button on this page (located on the right side bar)
Click the check-in button when it's time (also on the right)
Join the Battle.net chat channel ASUSROG (ASUSROG2 if full)
Wait for the bracket to appear
Start your matches ASAP, GL HF!
Remember the lower bracket starting from Ro16
Follow the schedule below
Maps
Battle.net Ladder Season 3 map pool is used:
2000 Atmospheres LE
Beckett Industries LE
Blackburn LE
Jagannatha LE
Lightshade LE
Oxide LE
Romanticide LE
Map vetoes
Before each match both players veto out two maps out of the map pool one by one in turns, leaving three maps to be played.
The player on the left side on the match page (top on bracket view) decides who starts the vetoes.
In short the map vetoes and picks are ABBA BAC. Players remove maps in ABBA order. Then the players take turns (BA) picking the map order from the maps that are left, starting from the first map that will be played. Player B picks the 1st map.
Server
All matches are played on the European server unless players mutually agree otherwise. Read more from the rules.
Format
The tournament starts as a single elimination bracket and changes into a double elimination bracket from round-of-16 onwards if there are 64 or more checked-in players, and from round-of-32 otherwise. This means that if you lose on Ro16 (or Ro32 if less than 64 total players) you may continue in the lower bracket. All matches are best-of-3.
The tournament will cease when top three players are decided. Reaching the finals (round-of-2) in the upper bracket or lower bracket is enough for qualification. The upper or lower bracket finals are not played.
Schedule
Day 1 - September 1
17:00 CEST (18:00 EEST) - Signup ends & Check-in starts
18:00 CEST (19:00 EEST) - Round 1 - UB Ro64
ASAP - Round 2 - UB Ro32
ASAP - Round 3 - UB Ro16 & LB Ro16s1
ASAP - Round 4 - UB Ro8 & LB Ro16s2
ASAP - Round 5 - UB Ro4 & LB Ro8s1
Day 2 - September 2
18:00 CEST (19:00 EEST) - Round 6 - LB Ro8s2
ASAP - Round 7 - LB Ro4s1
ASAP - Round 8 - LB Ro4s2
ASAP - Round 9 - LB Ro2s1
Participation
The first 128 players to check-in will enter the tournament. The check-in button will appear on the right on this page when check-in starts.
Note that you need to be in Master or Grandmaster league on any Battle.net server to be eligible to play.
Reporting scores
Only the winner of the match reports the score. To report, click on your match from the bracket and add match rounds. In trouble, see this guide.
Streams
If you wish to broadcast the qualifier, please fill out this form.
Below is a list of approved streamers. If the lobby gets full, priority streamers are entitled to stay starting from top.
Priority streams:
Additional streams:
Contact
Meet players and admins during the tournament at Battle.net chat channel ASUSROG (battlenet:://starcraft/group/2/220711)
If the channel is full, use ASUSROG2
Discord chat: https://discord.gg/7Yc7VmGjyv

Admins
Mikael "Mixu" Helenius
Battle.net: Mixu#21902
Discord: Mixu#7371
Jan-Kristian "Spira" Herring
Battle.net: Spira#2498
Discord: spira#5822
Juho "Azhrak" Nieminen
Email: juho.nieminen åt assembly.org
Battle.net: Azhrak#2452
Discord: Azhrak#9347

Result updates