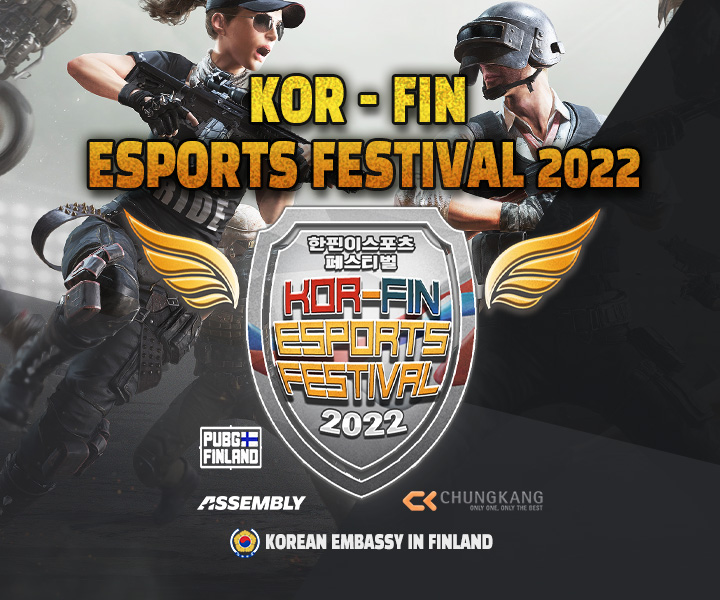 Liity mukaan Korean ja Suomen väliseen avoimeen PUBG-otteluun! Ottelu on avoinna kaikille suomalalsille. Osallistuminen kotoa internetin kautta on mahdollista.
Ottelun tarjoaa Etelä-Korean Suurlähetystö, PUBG Finland, Chung Kang ja Assembly. Ottelu on avoin kaikille Suomen ja Korean kansalaisille!
Kor-Fin Esports Festivaali on vuodesta 2020 lähtien yhdistänyt internetin välityksellä suomalaisia ja korealaisia peli-intoilijoita mannerten yli. Tänä vuonna haluamme kutsua PUBG:in pelaajat Suomesta ja Koreasta näyttämään kumpi maa on parempi PUBG:issa! Ottelun suomenkielinen striimi järjestetään Assembly Summer 2022 -tapahtumassa ja kävijät pääsevät näkemään ottelun pelilavan isolta ruudulta. Tule mukaan ottelemaan!
Ajankohta
6.8.2022 klo 12.00 – 15.00 (EEST)
Kor-Fin Esports Festival 2022 on ilmainen ja avoinna kaikille suomalaisille ja korealaisille PUBG-pelaajille. Lisätietoa löydät Kor-Fin Esports Festivaalin Discordin suomenkieliseltä ilmoituskanavalta.
HUOMIO!
Sekä karsinnat että finaaliottelu järjestetään 6. elokuuta (Solo mode, Erangel).
Sinun täytyy olla vähintään 16-vuotias osallistuaksesi
Ottelu järjestetään amerikkalaisella serverillä, jotta yhteys olisi mahdollisimman tasainen molempien maiden pelaajille.
Kaikki matsit striimataan PUBG Finlandin ja Korean Suurlähetystön Twitch-tileiltä. Assembly Summer 2022 -tapahtuman kävijät pääsevät näkemään suomenkielisen livestriimin Messukeskuksen pelilavan isolta screeniltä.
Palkinnot
Palkitsemme kaikki 64 finaaliottelun pelaajaa yksittäisillä lahjakorteilla Steamiin.
Finaalin voittajamaa (32 pelaajaa): 25€ lahjakortti Steamiin
Toiseksi tullut maa (32 pelaajaa): 15€ lahjakortti Steamiin
Katsojien raffle-event "Arvaa kuka voittaa?" (10 katsojaa): 10 € lahjakortti Steamiin
Palkintojen määrä ja summa voi vaihdella riippuen osallistujista. Palkitsemme vain yli 16-vuotiaat. PUBG Finland saattaa ottaa sinuun yhteyttä tapahtuman jälkeen varmistaaksesi ikäsi sekä asuinmaasi. Jos olet alle 16-vuotias, sinut diskataan ja et tällöin ole myöskään oikeutettu palkintoon.
Ilmoittaudu mukaan
https://forms.gle/ybAjoca9vjR9rJcC6
Mukaan valitaan maksimissaan 100 pelaajaa Suomesta ja 100 pelaajaa Etelä-Koreasta.
Lähetykset
Jos et pääse seuraamaan pelejä paikan päälle, voit katsoa ne suorista lähetyksistä seuraavista osotteista:
---
IN ENGLISH
Join the PUBG match online between Finland and Korea! Hosted by the Embassy of the Republic of Korea (South) in Finland, the event is open to all.
Since 2020, Kor-Fin Esports Festival has connected Finnish and Korean game-enthusiasts online across the continent. This year, we invite PUBG players in Finland and Korea to compete in which country is best in PUBG! Kor-Fin Esports Festival 2022 is free to attend, and it is open for ALL PUBG PLAYERS in Korea and Finland. Read more on Kor-Fin Esports Festival 2022 Discord.
Date & time
6.8.2022 Saturday 12.00 – 15.00 (Finnish time) / 18.00 – 21.00 (Korea time)
ATTENTION!
Both qualifiers and the final match will be held on 6. August. (Solo mode, Erangel)
You must be at least 16 years old or above to attend.
The match will be hosted on the American server to secure an acceptable ping between Korea and Finland.
All matches will be live-streamed online via PUBG Finland (Finnish) and the Embassy (Korean). Visitors at Assembly Summer 2022 can watch the Finnish live stream on a big screen at Messukeskus.
Prizes
Prizes will be offered to all 64 players went up to final match.
The winning country in the Final (32 players): 25 EUR Steam gift card for each
The 2nd winning country in the Final (32 players): 15 EUR Steam gift card for each
Viewer raffle event "guess who will win!" (10 viewers): 10 EUR Steam gift card for each
The exact number and the amount of the prizes may change depending on participant amount. Prizes are given to those above 16 years old. For Finnish or Finnish residence, PUBG Finland may contact you for further details to verify your age and country of residence after the event. In case you turned out to be under 16 age, you will be disqualified and prize will be cancelled.
Sign up
https://forms.gle/vxZA6JXzzvLYbKui9
Up to 100 players from Finland and 100 players from South Korea will be selected.
Streams
If you can join the event on site, you can watch the games from these streams:

Result updates